Wastewater Treatment
Sediment Patterning / Sludge Surveying
Sediment patterning is a useful analysis process for determining quantities of accumulated settled solids (sludge) and the chemical and biological composition of the material.
We have the experience, equipment and expertise to carry out comprehensive sediment/sludge sampling in virtually any situation.  Sediment analysis can be done in any pond or lake from anaerobic ponds with floating crusts to facultative wastewater lagoons or fresh water lakes.
SEDIMENT AND SLUDGE ANALYSIS
SEDIMENT AND SLUDGE ANALYSIS
SEDIMENT AND SLUDGE ANALYSIS
It is important to understand potential stratification in solids concentrations relative to depth in wastewater sludge when estimating volumes for removal.  This stratification is also a valuable metric to monitor during various stages of a Bioaugmentation Program such as AMD.
Sediment can sometimes be found to lie in layers of varying states of decay, colour, compaction and biological activity. Parklink has the knowledge and equipment to monitor the progress of the sediment hydration both before and during a Bioaugmentation Program.
We work to strict industry processes and procedures when collecting samples for scientific analysis and where necessary, testing is carried out by approved IANZ accredited laboratories.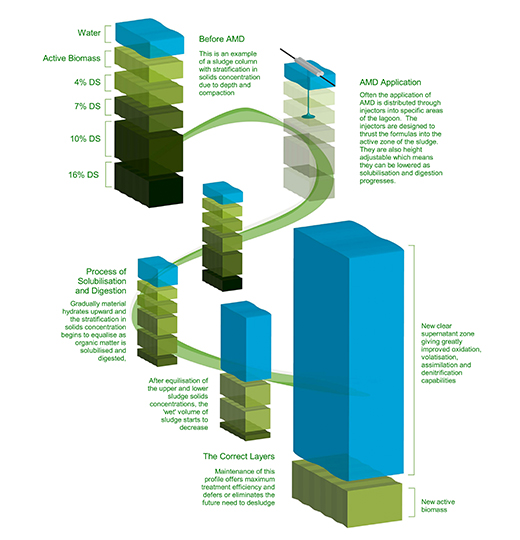 GRAPHING AND REPORTING
GRAPHING AND REPORTING
GRAPHING AND REPORTING
Accurate and meaningful graphing and reporting is essential to understanding sediment patterning. At Parklink we use topographical modelling software and Excel-based calculating software to calculate volumes of sludge and dry mass.
Sludge samples can be collected at any depth without any interference or contamination to the test site.