Lakes and Ponds
Algae Control
Spirogyra, Anabaena, Oscillatoria, Lyngbya, Pithophora, Chlamydomonas, Chlorella, Euglena, Closterium, Anacystis
Filamentous Algae
Filamentous algae are single algae cells that form long visible chains, threads, or filaments. These filaments intertwine forming a mat that resembles wet wool. Filamentous algae starts growing along the bottom in shallow water or attached to structures in the water (like rocks or other aquatic plants). Oftentimes the algae will become detached from what it was growing on and float along the surface of the water like a rug. Learn more about filamentous algae control and blanket weed solutions.
Planktonic Algae
Planktonic algae are floating microscope plants that are normal and essential inhabitants of sunlit surface waters. There are literally millions of floating planktonic algae and these colour pond water in shades of green, blue-green, brown or variations in between. Planktonic algae that colour the water is often called a bloom or algae bloom. Many species of algae are involved in algae blooms and these species change over time based on temperature, light, nutrients, and other factors.
How can you identify it?
Often filamentous algae floats to the surface forming large green mats, which are commonly referred to as pond scums. There are many species of filamentous algae and often more than one species will be present at the same time in the pond.
Planktonic algae may at first appear as if your pond water is changing color. As this green or blue-green algae blooms more it can cause your pond to look like pea soup or paint. It will also cling to things, such as your shoreline, and leave traces of scum on rocks and other objects in the water. Some forms of Planktonic algae are toxic and can only be identified with the proper equipment.
Did you know?
Filamentous algae can spread within days and cause severe damage.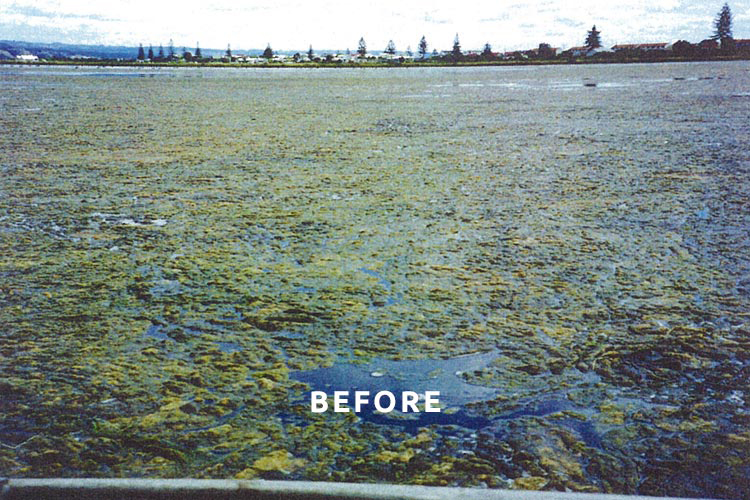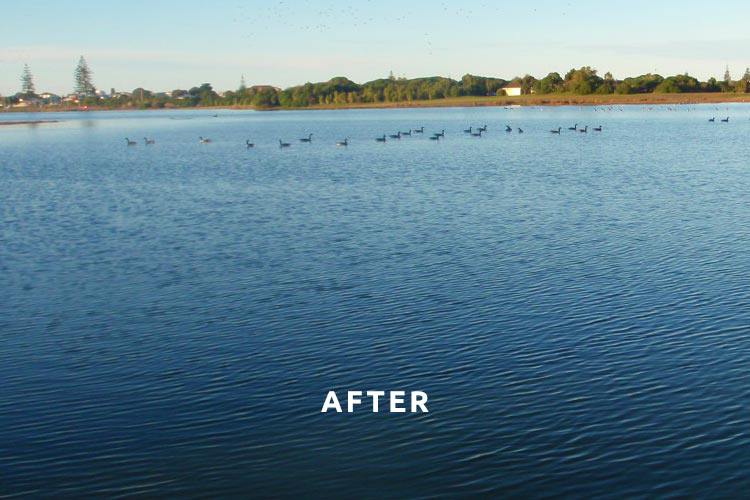 Napier Wild Life Reserve
Napier City Council
The density of Algae had reached a point that large swans were only able to make their way through it by flapping and crawling over the top. The algae had grown in the deeper zones in massive column type structures that were over 1.8 meters tall
Napier City Council had exhausted all avenues to help fix the situation but seemed resigned to the fact that mechanical extraction was the only feasible way to keep the algae back.
The council was approached by the Parklink Bioremediation consultants and the suggestion of using a biological process to clean up the water way was put to them. After a thorough investigation of all factors, surroundings and water qualities a plan was put together to start a treatment process that was to run for a minimum of 2-3 years. The council accepted the proposal and work began at the end of June 2002. The photos speak for themselves.
Full case study
Products
Industry leading solutions
for good water quality
REGEN-Algaemaster®
REGEN-Alguard
REGEN-Alguard Plus
REGEN-Enhancer®
REGEN-Sediment®
REGEN-Balance®